Origionally founded in August 2015 as an STO fleet the 12th Legacy has strived to be the best casual fleet within the game. We pride ourselves in our openness and dedication to providing the best experience for our players. Our core value has always been to relax and have fun.
&nbsp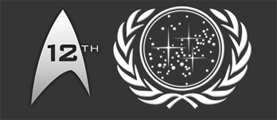 The 12th Legacy is proud to be a active and contributing Beta Fleet within the United Federation of Planets (UFP) Armada.
As part of the UFP Armada, we have the best opportunities to engage our community and participate in activities that support our fellow Armada members.
&nbsp
Over time we have discovered that it's not just about STO, at least not any more. Many of our current members enjoy other generes...command tanks, engaging in epic sea battles, becoming one with the force, or a liesurely drive at 110 mph.
With that in mind, the 12th Legacy is broadening it's horizions and embracing a multi-gaming structure. Our Gaming Division emcompasses the popular games that members enjoywhen it's time to dock their star ship for a bit.
The goal is to estabilish the 12th Legacy name in games that support players gathering under a single banner. Even if a game doesn't support "Guilds", we'll still run together when possible. It is our hope that potential new members will bring their knowledge and expertise into the fold for all to enjoy.
&nbsp
&nbsp

One of the benefits of being in a casual fleet is that you are not faced with any strict activity checks or rigid, demanding requirements in order to remain in the fleet. We only ask our regular members to log in to the forums at least once every 3 months in order to remain in the fleet. Members of the Gamimg Division should visit thier "Guild" supported games every 3 months as well. We encourage our gaming members to participate and even try hosting events in their favorite games.
We also have monthly meetings on our Discord server, so members can keep up to date on news about the fleet, the Armada, and the games we play.
We now use Discord exclusively for all of our external communications needs. It is a powerful app that allows for our members to gather for meetings, game chatting, and uploading and sharing images without having to go to external links...all free of charge.